Bakers in Ernakulam
Rising Loaf, the best Bakers in Ernakulam, makes handcrafted premium made-to-order baked goods without using food preservatives and additives. We offer custom cakes, fine gourmet desserts, and delicacies. Our blends are unique as it mixes in a good deal of talent, expertise with natural baking ingredients to give you the best experience of sweetness and taste. We, Wholesale Bakery in Ernakulam are obsessed with using only high-quality and fresh ingredients in our products to maintain the authentic taste and fresh flavours in our confectioneries.
All our loaves of Bread, Cakes, Cookies, Donuts & Muffins, and Cupcakes are baked with a lot of care and filled with love in the most hygienic environment in Ernakulam. We ensure that our employees adhere to the standards of the Food Safety and Standards Authority of India (FSSAI) for workplace and personal hygiene. At Rising Loaf, we measure success with the fullness of the smiles of our customers as they taste our delicious products and come back for more. They are the feathers in our caps, our motivation to bake and serve better. Thanks to all of your love and support!
"Cakes are special.
Every birthday, every celebration ends with
something sweet, a cake, and people remember.
It's all about the memories."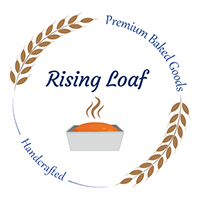 More Items From Our Bakery in Ernakulam
Courses
Are you looking to learn the basics of baking to make foolproof breads, cookies, tea time cakes, etc… then look no further and please feel free to contact us. We are offering hands on classes in baking and cake decorating. The hands on classes are limited to three seats in strict adherence with the norms of social distancing. You can schedule the classes as per your convenience.