Learn to make the Best Baked Goods
Rising Loaf Baking Academy was established with a primary motto to provide a thorough hands-on learning experience. The academy aims to empower and equip wanna-be pastry chefs and home entrepreneurs as well as individuals who simply want to hone their skills to bake for family and friends with in-depth knowledge and skills. There are a wide variety of courses that have been carefully curated to cater to the needs of students with varied ambitions. The diploma program imparts knowledge and skills necessary to become successful pastry chefs. There are various short-term courses to help individuals turn their passion for baking into a profession and become financially independent from the comfort of their home.
The academy is designed with state-of-the-art infrastructure to aid with a dynamic learning environment for the students. There are spacious individual workstations for the students. The academy is well equipped with the latest ovens and machinery.
The academy is located in a prime location in Kochi, Kerala and is easily accessible via KSRTC bus and metro rail. There are plenty of hostels in the vicinity for outstation students.
We look forward to becoming pioneers in producing a highly skilled workforce for the baking industry. We not just want to train individuals in baking but also want to cultivate the core values of accountability, teamwork, professionalism, and excellence in service.
We are now working in collaboration with The Baking & Pastry Institute, Kaloor, Kochi.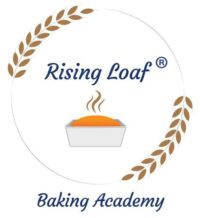 Nithil George is the Founder, Executive Pastry Chef, & Chief Instructor of Rising Loaf Baking Academy. After graduating with a degree in hotel management, Nithil worked in a couple of luxury hotels in Kerala for over two years. He soon realized that his heart was into baking. So he went ahead and pursued a Diploma in Baking and Pastry Arts. Since then he has been doing what he thoroughly enjoys and does best….teaching the art of baking. With a teaching career spanning over seven years Nithil has groomed numerous students to become professional pastry chefs. He is passionate about making Breads, Artisan Breads, and French Pastries. He believes that learning is a lifelong process and hence constantly strives to perfect and refine his skills. He is well known amongst his students for his amiable personality. In his free time Nithil enjoys gardening and traveling. He is a foodie who loves to explore new cafes and restaurants. He is also an avid food photographer and food stylist.
Grace Abraham is the Cake Artist & Instructor at Rising Loaf Baking Academy. She completed her BTech in Electronics & Communication Engineering and worked for a couple of years in the IT industry. She then decided to follow her passion for baking. She went ahead and completed her Diploma in Baking & Pastry Arts. She also completed a course in cake decoration and was awarded the certificate of excellence in recognition of her performance. She began her career as a Cake Artist at Rising Loaf three years ago and there has been no looking back since then. She has made numerous customized cakes and cupcakes. She then started to teach cake decoration. She is always keen and eager to keep herself updated with the latest cake trends. She thoroughly enjoys making fondant figurines and gumpaste flowers. In her free time Grace loves cooking, painting, and traveling.
Why Choose Us
Professional Baking, Cake Decorating and Chocolate-making Courses only for you
Courses
We have a wide variety of certified short-term courses as well as diploma program in baking and pastry arts to choose from.

International Certification & Curriculum
Curriculum that meets international standards.

Faculty
Well trained chef instructors.

Fee
Affordable course fee as well as installment options available for diploma students.

Academy
Very well equipped facility with individual workstations.