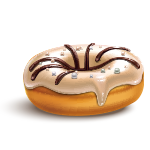 If you are a donut lover then look no further for we have the best donuts to satisfy your sweet tooth. Fresh, delicious and made-to-order we have five classic frostings to choose from.
Donut Worry Be Happy… 'cause we have got a variety of toppings to choose from. You can either opt for a box of single flavor or a box of assorted flavors of your choice
DARK/MILK/WHITE CHOCOLATES
₹ 200.00
CREAM FILLED DONUTS
₹ 220.00
BLEND OF SUGAR AND CINNAMON
₹ 180.00
Whether it's breakfast blues or evening snack cravings, we have got you covered with our freshly baked muffins in three different flavours. Delicious muffins delivered to your door.
BANANA NUT MUFFINS
Soft and moist, mildly spiced with a dash of cinnamon and crunchy walnuts in every bite.
₹ 120.00
CARROT MUFFINS
Simple and wholesome loaded with the goodness of carrots and raisins
₹ 120.00
DOUBLE CHOCOLATE MUFFINS
Deep chocolate flavor from the finest Belgian chocolate and semisweet chocolates chips
₹ 130.00