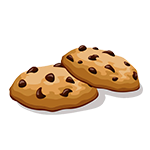 Comes in a pack of 200 gms
TRADITIONAL CHOCOLATE CHIP COOKIES
Slightly crisp edges and chewy middles dotted with chocolate chips.
₹ 160.00
DOUBLE CHOCOLATE CHIP COOKIES
Rich and fudgy. You get a double dose of chocolate.
₹ 200.00
CLASSIC PEANUT BUTTER COOKIES
Loaded with a flavor of our in-house peanut butter.
₹ 200.00
BISKUT MAZOLA
Made with toasted peanuts that are coarsely ground.
₹ 170.00
SAVOURY CHEESE BISCUITS
Light, flaky, and bursting with the flavor of cheese and a hint of Italian seasoning.
₹ 200.00
ITALIAN ALMOND SHORTBREAD COOKIES
These nutty and bite sized beauties are dipped halfway through in dark chocolate.
₹ 250.00
WHOLE WHEAT COCONUT COOKIES
Crispy, tasty and healthy, a perfect tea time munch.
₹ 160.00
OATMEAL RAISIN COOKIES
₹ 230.00
SALT CRACKERS/SALT COOKIES (No Added Sugar)
₹ 130.00